Down to the wire and looking for the perfect gift? Gallery owner, Sybil, has compiled her Christmas wish list so you can look no further! Below are some great ideas for anyone in the family— even those who are difficult to shop for. Have a Merry Christmas!
Steve Childs, Asheville, 12x9
Steve joins us for our Small Works Show from Winston Salem. This little painting has stolen my heart. It is the happiest little painting of one of my favorite places in NC.
Barbara Davis, Kisses, 5x5, Oil
I cannot get enough of Barbara Davis' kiss paintings. They sell quickly - in fact, I already sold one this morning. This one will go fast - it is $295.
Stuart Dunkel, Kiss, 5X4, Oil.
As many of you know, I have a thing for animal art. Stuart Dunkel is one of our favorite newcomers to the gallery in 2018. He arrived in January, and we can't keep these mice in the gallery! People love them. This kiss mouse is new and a favorite!
EMYO, Nourish, 20X16, Mixed Media
I adore all things EMYO! Both of my sisters received EMYO florals for Christmas last year. They make the perfect gift, and they are happy go-anywhere pieces.
Curt Butler, Justifier, 12X12, Mixed Media
This was the year of Curt Butler! He did a series of bird paintings for our Small Works Show. Each piece is better than the next - but this sweet bird is a favorite. My mother-in-law received one of these for her birthday this year :)
Christy Kinard, Get Happy, 12X12, Mixed Media
I tell the same story about Christy Kinard to everybody who comes in.... I own several of her pieces, and if I could, I would put one in every room of my house. They make me SO happy.
Laura Park, Winter Bouquet, 36X36, Mixed Media
Laura Park is not only one of my favorite abstract artists, but she is also a dear friend to me. I love her so much. Her show, with her crazy genius husband Trip, opens next month. She has begun a new series of abstracted still-life paintings that I adore. This is one, plus the next one.
Laura Park and Trip Park, Collaboration, 40X40, Mixed Media
Trip Park, Lover Boy, 60X60, Mixed Media
Trip had this biggie delivered on Saturday. It is my new favorite of Trip's. 60X60, and SO full of life. Trip's show happens NEXT MONTH - with his lovely wife Laura.
Geoffrey Johnson, Central London, 16X12, Oil on Board
These little Geoffrey Johnsons are EVERYTHING! Geoffrey spent a lot of time over the summer in Europe with his sons, and from that trip came these little beauties.
Geoffrey Johnson, Dauphine - Paris, 16X12, Oil on Board
Deborah Hill, The Path 7, 12X12, Oil on Panel
Deborah Hill's florals take my breath away. I love the old-world feel of them.
These two pieces look great as a pair (see next.)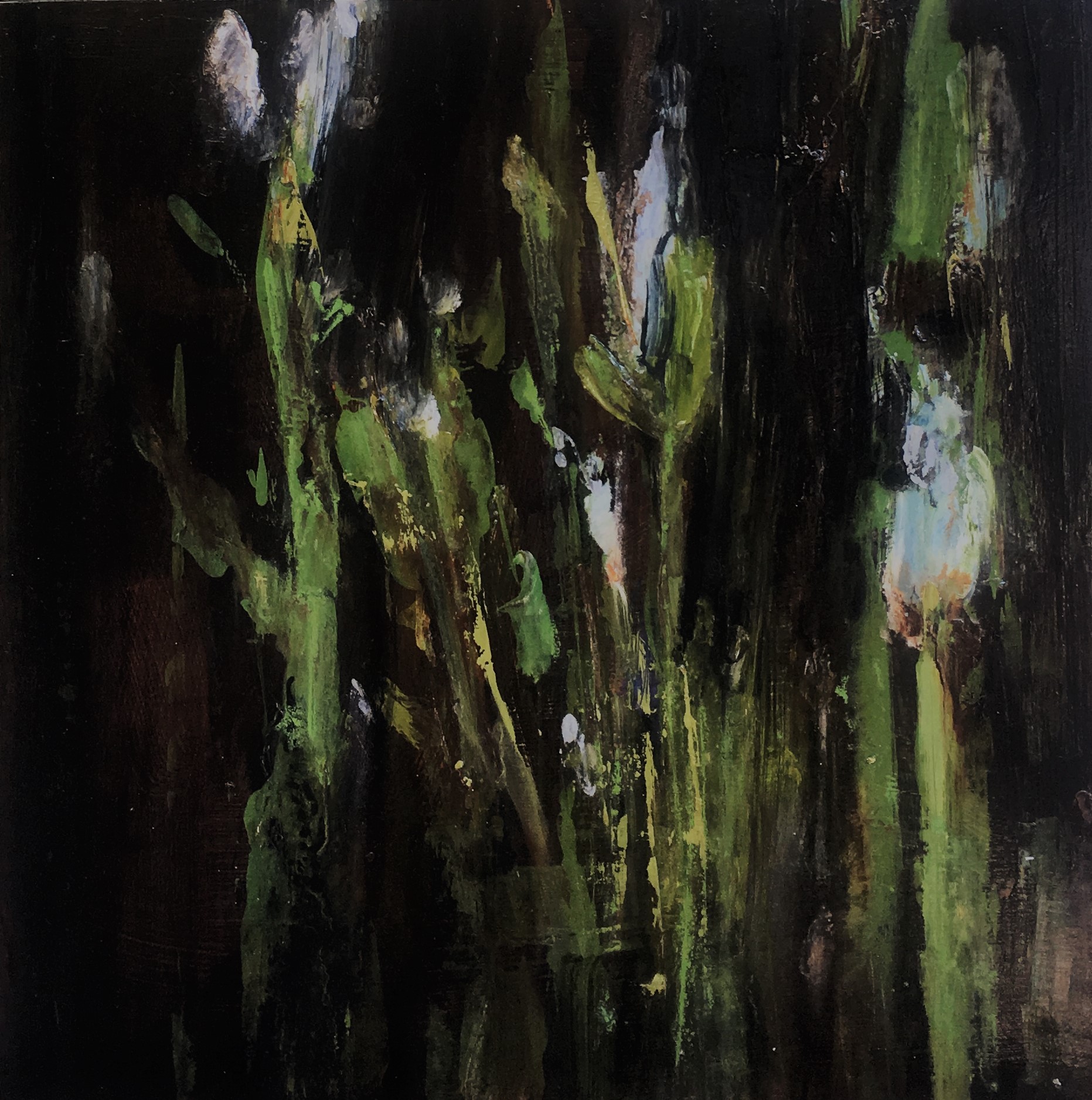 Deborah Hill, The Path 9, 12X12, Oil on Panel
Dennis Campay, Wine Critic, 10X8
This is the perfect little Dennis Campay. I have loved Campay's work since I began my art career in Atlanta 15 years ago. His work was in every gorgeous home I walked into, as well as in the High Museum of Art. He is not only a favorite artist of mine, but also like family. Someone I talk to everyday. He is loved!
Luke Allsbrook, Dark Evening with Green Field, 15X8, Oil on Panel
I love the way Luke paints! This little painting is my favorite of his right now. It is hanging in the Small Works Show.
Jacob A. Pfeiffer, Hooked, 12X6, Oil on Panel
Jacob is one of my all-time favorite realists. His work is incredible, and I have one proudly hanging in my home. This piece is currently hanging in our Small Works Show.
Eric Olsen, October, 20X20, Oil
Eric is not only a great selling artist in the gallery, but also a dear friend to me. His work has been moving to a really amazing place recently - and we sell it like crazy. He did a series of 20X20s for our Small Works Show that are exquisite. Lots of great texture - which I love.
Brandon Blaine McMillan, Clement, 11X14, Oil
Brandon is the newest member of the gallery. We have almost completely sold everything in about a month! This little lamb is a favorite, and it hangs proudly in our Small Works Show.
Karen Hollingsworth, Close Encounters, 40X30, Oil on Canvas
Karen is not only a favorite of mine, but also like family to me. This fox painting hangs by my desk in the gallery and makes me SO happy.
Lesley Powell, Gerbers in Blue and White, 11X10, Oil.
I love this little Lesley Powell piece. It is the perfect little still life.